Explore, strengthen, try something new! Look through our class descriptions below for more info!
SPRING SESSION RUNS MARCH 21-JUNE 16
Core-ography Samba Fundamentals Twerkfit
---
Core-ography
Mondays March 21-May 23, 2022
Thursdays March 24-May 26, 2022
Monday Open Level Class 6-7pm
Intensive Class Mondays and Thursdays 7-9pm
MONDAYS: Oak Room, Evergreen Community Spaces – #2, 1709 8 Avenue NE
THURSDAYS: Spruce Room, Evergreen Community Spaces
Work on that body-ody-ody, add strength to your core, and versatility to your body movement all in a supportive, community-oriented setting, with Core-ography – a blended strengthening/conditioning and dance class.
OPEN TO ALL AGES, SIZES, ABILITIES, AND EXPERIENCES – Instructor and DRSD founder De-Ann Weekes gives individual attention for every student, every class to let you blossom and see real progress in this transformative modern and Afro-Caribbean class! This training is for both dancers AND for anyone who moves their body, looking to strengthen their bodies in unconventional ways.
Classes specialize in two areas of focus:
core strengthening and conditioning using Dunham, Graham, Horton, and Limon techniques, used by dancers at Ballet Creole and Alvin Ailey dance companies
short movement and multi-genre choreography based on what we have learned
This training is unique and intentional, and dancers of all backgrounds will benefit: first time movers, professionals, dance teachers, and classically trained dancers will all be introduced to something new and exhilarating. Using these techniques helps dancers of all genres discover where movement is initiated from – you can discover better turnout, strong releves, powerful jumps, turns, and a better sense of groundedness for many Afro-diasporic dances as well.
Class Pricing
Drop-In: $25 1 hr/ $30 for 2 hours on Thursdays
10 Week Package: $167 per month or $500 total

3 monthly payments through March, April, and May

5 Week Package $250
Samba Fundamentals
Tuesdays April 12-June 14
7-8pm
Pine Room, Evergreen Community Spaces – #2, 1709 8 Avenue NE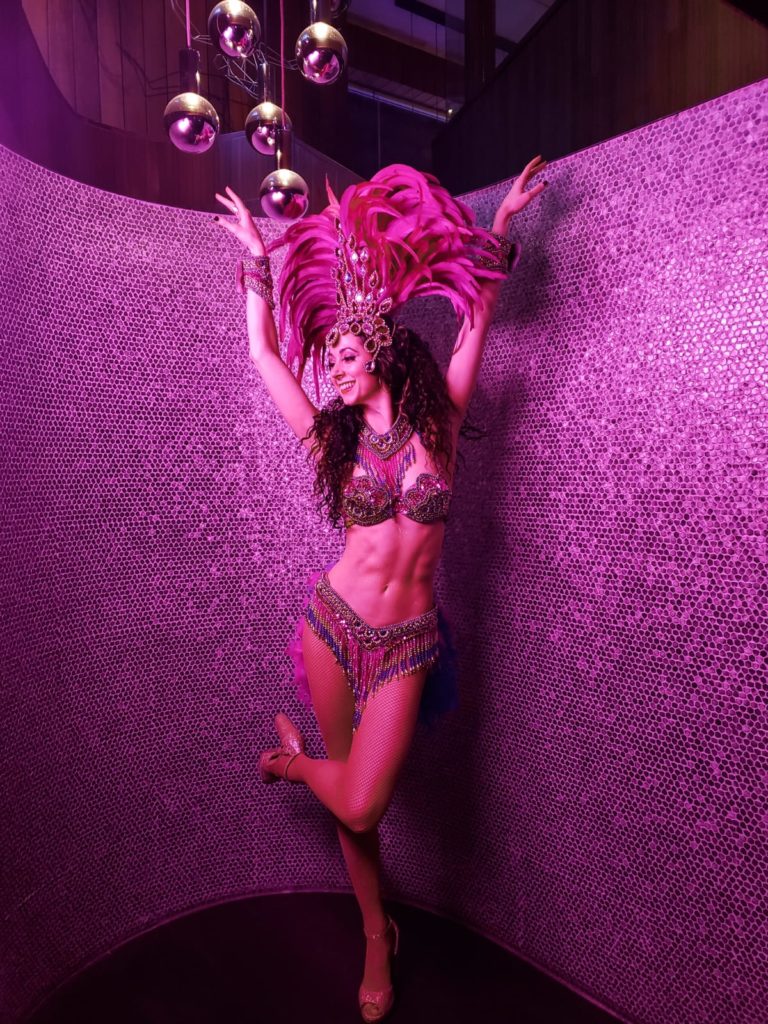 Put your Carnaval costume on and join instructor Taylor Hunt for an introduction to the rich, multi-faceted world of Samba! This traditionally Afro-Brazilian dance has the world in awe of its vibrant colours, exuberant movement, and joyful, unstoppable rhythms! Our Samba Fundamentals class is open to all ages, sizes, abilities, and experiences but especially for those new to samba or new to dance.
Taylor will take you through understanding foundational samba movements, drills and cardio (prepare to sweat), and short movement combinations with historical and cultural references weaved throughout. Dancers can look forward to a natural progression of class level in Winter 2022.
Class Pricing
10 Week Package: $66.7 per month or $200 total

3 monthly payments through April, May, and June

Drop in $25
Twerk Fit
Thursdays April 14-June 16, 2022
6-7pm
Spruce Room, Evergreen Community Spaces – #2, 1709 8 Avenue NE
Instructor Siggy Cortez helped establish Twerkfit in Calgary 2 years ago to empower women in taking back their minds and bodies. With 20+ years of dance and theater experience, classes promise to be captivating and very entertaining! Follow Siggy through the roots of twerk in the mapouka dance tradition of groups native to Cote D'Ivoire, to related styles around the Caribbean, Latin America, and the rest of the African diaspora.
Her goal is to make you shake your booty and soul back to the self-confidence you were born with and reconnect with your inner strength. A strong advocate for women's mental, emotional, and sexual health, Siggy uses twerk as a way to reach audiences who are struggling with self-love. Twerkfit is open to all ages, backgrounds, abilities, and experiences!
Class Pricing
10 Week Package: $66.7 per month or $200 total

3 monthly payments through April, May, and June

Drop in $25
CLASS SAMPLER PACKAGE
Get a taste of each of our class offerings in this 6-class package that includes:
2 Core-ography Sessions with De-Ann
2 Samba Sessions with Taylor
2 Twerk Fit Sessions with Seigred
Classes are redeemable only within the Winter 2022 Semester from January 3-April 7
Class Pricing
6 Class Sampler Package: $140 (use code SAMPLE6 at registration)
PRIVATE CLASSES
We offer single, couple, and group private dance classes. Get one on one attention from your instructor or have personalized choreography for your group. Whether for weddings, parties or a couples' night out, remember, it's all about you!!
NOTE: Private classes are non-transferable and non-refundable.
Class Pricing
1 Private Class $75-1 HOUR
5 Private Classes $350-1 HOUR SESSIONS
10 Private Classes $650-1 HOUR SESSIONS